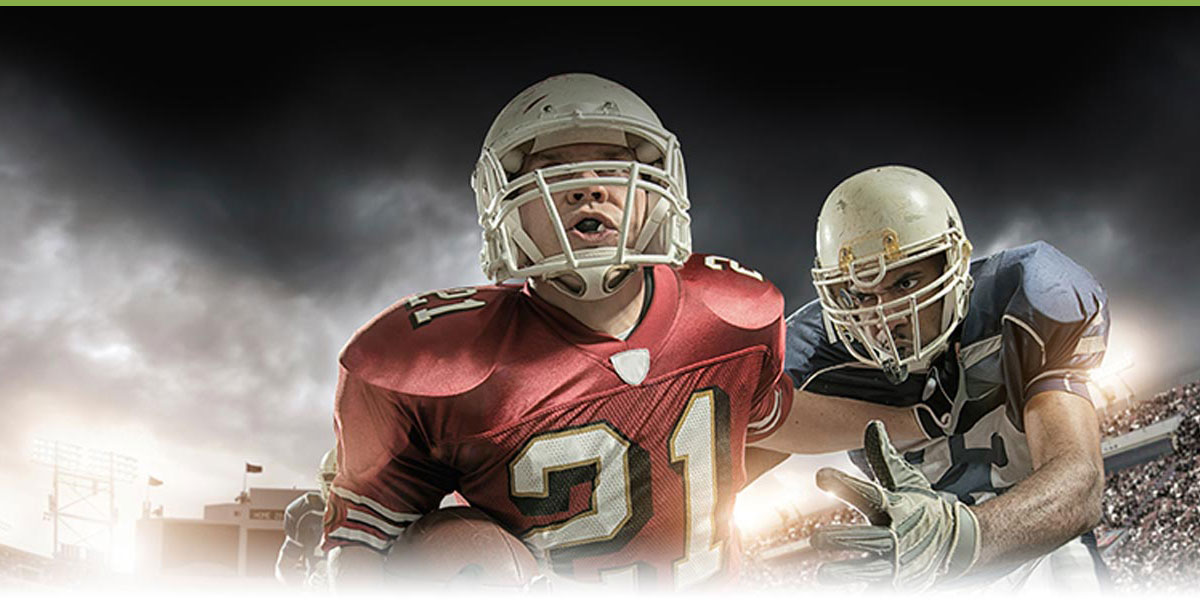 Sports Turf Systems
Synthetic turf provides a playing surface that is geared toward durability and performance. The governing bodies of major professional sports like FIFA (the International Federation of Association Football), the IRB (International Rugby Board), and the FIH (the International Hockey Federation) all use and endorse synthetic turf as the playing surface of choice for professional matches.
GreenFields is pleased to offer a versatile line of sports turf products that provides solutions for many major sports organizations that would otherwise be using natural grass. There are many benefits to using GreenFields artificial turf. It offers the benefits of superior safety and performance and also meets certain requirements that would be impossible to achieve through use of natural grass in terms of consistency uniform levels in playing field conditions.
Real Innovations that are changing the game
For years, our approach to designing and building the world's best synthetic turf systems has been inspired primarily by one very important thing: nature. Every one of our products is designed to have the look and feel of a natural playing surface so players and fans alike are able to have the best experience possible using them.
Maximized playing time
The key benefit that synthetic turf offers is a dramatic increase in playing time without risk of damage to the field. Sports pitches made of artificial turf are able to withstand as much as 3,000 grueling hours of play time every year. That is quite the departure from natural grass! Synthetic turf can also be utilized in different weather and climate conditions throughout the year, including a variety of sporting events that present different requirements for performance. GreenFields artificial turf is designed to meet all of those unique standards.
Long-term system Performance
Our synthetic sports turf systems are developed through a process of intense research that encompasses every aspect of the final product. Each component is subjected to repeated testing within our own testing house facilities. There, we strive to create long term standards of behavior that most closely mimic the performance of natural grass in terms of roll, bounce, damping and energy restitution.
GreenFields is proud to also offer comprehensive maintenance solutions that guarantee your synthetic sports turf system stays in prime condition for many years to come.
Cost effectiveness
Artificial turf does require some routine and minor maintenance, including cleaning and brushing, but the maintenance on a synthetic surface is insignificant in comparison to natural grass. Artificial turf does not not require fertilizing, irrigating, mowing, or chemical treatment. It also does not require a significant amount of water – as much as a million gallons fewer per year – making it a clearly eco-friendly and cost-saving advantage over natural grass.
Football - It is time to tear up your game, not the Field!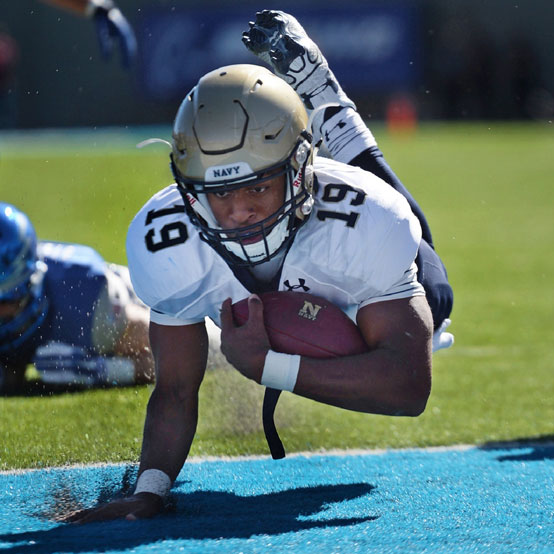 Few sports can even compare with the brute force and fighting spirit of Football. It is a real American tradition with an influence that reaches all the way around the globe,creating rabid fans every step of the way. It even rivals sports like baseball and soccer in its ability to balance an environment of competitive play with an exciting spectator experience.
If you have ever seen a game played on a natural grass field or on old and worn-out synthetic turf, you know that just one game can totally obliterate that playing surface. This eventually leads to playing surfaces that are uneven, ugly and slippery in rain and snow. All of these things present an increased overall risk of injury. The good news is that there is a definitive solution to these and the many other issues that can arise just out of the normal pace and play of a game of Football, and lies in modern turf technology.
The new generation of Turf
MX-innovationArtificial turf today is both rugged and durable. It can stand up to some of the worst punishment a pro athlete can throw at it. Continuously-evolving technology and a proper playing surface can create a real recipe for excitement and action. The technology also creates a safe environment that is aesthetically pleasing and can take a beating again and again while still providing season after season of low-maintenance entertainment for the fans and a consistent challenge for the players.
Soccer
Soccer is the worlds most played and most popular sport and it is rapidly gaining popularity in the United States. A soccer game can be a very thrilling, emotionally-charged experience.
Over the years, though, various issues surrounding natural grass and the use of outdated kinds of artificial turf have surfaced. Inconsistent playing surfaces, the wear that affects the field over time, the unpredictability of natural grass terrain, and worn-out, flat and useless artificial turf fibers are all serious problems. All of these can have a negative effect on ball roll and player maneuvers, both of which can have a negative impact on the game from both player and spectator perspectives.
As a Preferred Producer for FIFA, GreenFields consistently goes beyond the traditional role of the supplier/installer by constantly improving the total quality of our tightly-integrated services and products. Through this approach, GreenFields is able to fully manage the production, installation and maintenance of synthetic turf for soccer from the inception of your project to its completion.
It is not merely the quality of our products that has helped GreenFields maintain its market leading position. We offer a totally comprehensive service package that extends from consultancy through solutions and yields true turnkey project results.
Baseball & Softball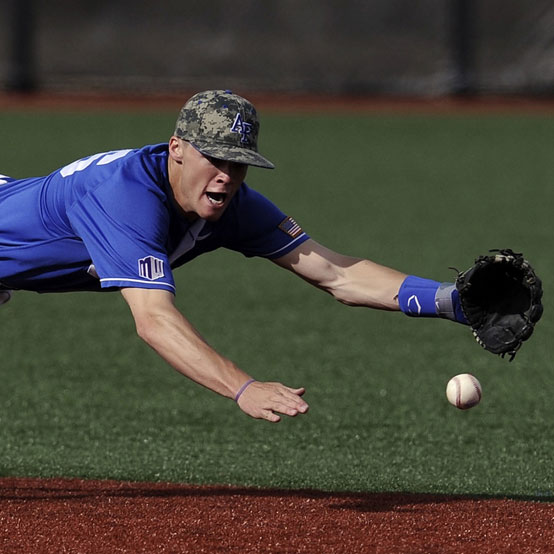 There are numerous considerations when it comes to selecting the playing surface for Baseball. You want a turf solution that will prove to be the best for your players. These are not children playing an impromptu game in the park – these are real athletes with real potential. Some of them have the potential to go pro. For the sake of your players, it is imperative that you take everything that will affect their performance and action on the field into account when deciding on a field to build for them. How your players interact with the ball and how the ball responds to the playing environment is a fine balance. Finding it is anything but simple and it is even more difficult without the right guidance and information. This is where we at GreenFields come in…
We are totally committed to providing you, your team and your fans with the best experience possible. It is this commitment that motivates us to keep improving on the quality of the turf we manufacture and the methods we use to install it. Through years of advancement and innovative synthetic turf science, modern playing surfaces have gone through a significant evolution in recent years. The latest technologies now address problems ranging from glare reduction to heat retention to injury prevention with efficiency. We at GreenFields are committed to constantly improving on technologies that address issues such as these. Every grade turf that we manufacture is designed for outdoor play that is safe, even under wet or damp conditions, and we develop it with serious athletes in mind.
Lacrosse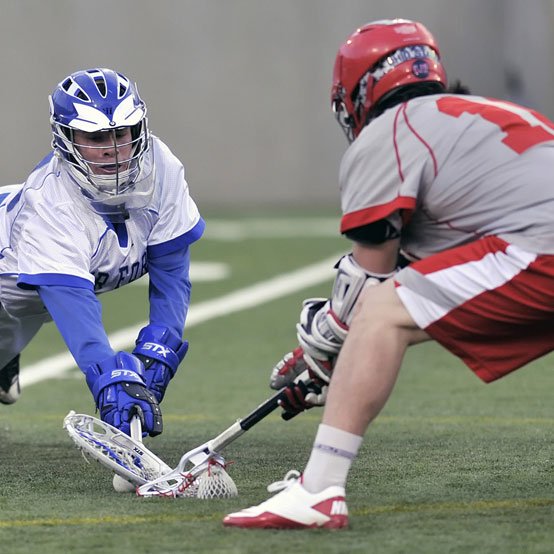 Lacrosse is a game that moves fast and is loaded with action. While watching a Lacrosse match can be very exciting, players on the field need a safe playing surface and gameplay environment that caters to the sudden and swift movements that lead to successful passes and shooting goals. For the serious player, these concerns are real. Their playing surface needs to be simultaneously durable and yielding and it needs to be capable of minimizing injury. Playing fields like this can be hard to find, and with natural grass it is virtually impossible. But with so many synthetic turf options available, making the best possible choice can be difficult.
With an expertly engineered Lacrosse field installed by GreenFields, your players have a consummate advantage. We design all our athletic fields to bring out the very best in each and every athlete by maximizing the precision of control and roll of the ball and enhancing player agility all with attention to durability and safety.
GreenFields is a leading name in the synthetic turf industry. Our experts spend tremendous amounts of time and resources to research and develop artificial turf products that help us maintain our edge and then pass it on to you. We want to help you find that balance between budget and the right playing surface.
Field Hockey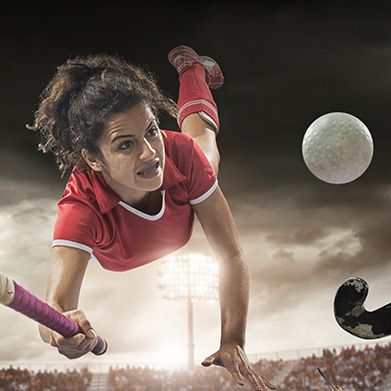 Field hockey is a game of speed. It is a game that places high demands on its players. It demands just as much from the pitch. Not many sports serve the playing surface the kind of beating field hockey can. A field hockey surface has to be incredibly durable and capable of handling the kind of wear this sport serves up. The surface needs to be flat and stay flat. It must be predictable and fast for players to be able to play at their best. A sluggish pitch removes the swift pace from the game and limits players ability to excel. Your Field hockey system with
GreenFields® TX provides the consistent, durable and predictable playing surface your team needs. GreenFields® TX is among our newest innovations. It is a synthetic turf system that has been developed in tight collaboration with TenCate, a global textiles technology specialist, and leading field hockey players.
GreenFields TX has undergone extensive research and development and has been field tested by clubs who play field hockey at top levels. Based on the experience of field hockey players, our TX synthetic turf system was developed even further at user level for the purpose of creating a system that has now been named Number One on earth by the World Cup organization.
GreenFields TX has been chosen as the official playing surface for the 2014 World Cup. 24teams representing 15 countries and five continents will meet at Kyocera Stadium to compete before a crowd of 15,000 spectators and at GreenFields Stadium, a venue with a capacity of 5,000 seats.
Rugby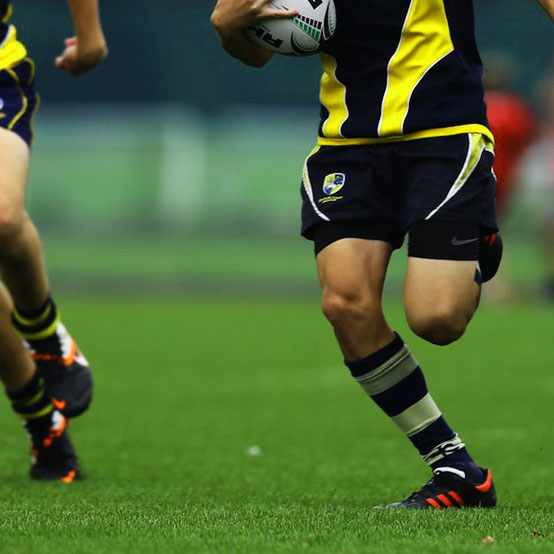 A lot has changed… but not in the game of rugby! With the natural development of artificial grass surfaces over recent years the opportunity for improving the play-ability of the Rugby field has never been better. Just imagine training and playing without the thought of sliding around in cold and wet mud.
The development of artificial grass surfaces that replicate the playing qualities of good quality natural grass has stimulated much interest in the games of rugby and football. These surfaces, often described as third generation artificial grass, have a much longer pile than the previously used sand filled surfaces and are normally partly filled with rubber or rubber and sand mixes.
The improved qualities of these new surfaces have been recognised by the international governing bodies of rugby union and football and they have each amended their rules to allow the use of artificial grass pitches in their competitions.
To ensure pitches have the desired playing characteristics and provide the necessary levels of player protection, international governing bodies have specified the performance they require from artificial grass pitches.
Because of the fact that many artificial grass pitches are, however, used by more than one sport and because this can lead to compromises in the characteristics of the playing surface GreenFields developed unique products which meet up to the highest standards.
We already succesfully installed artificial grass for Rugby in combination with Football in several countries like New Zealand and the UK.
Sports Turf Solutions
Questions? Quote?
Use the form below and talk with an expert.